damaged, dry hair – argan & cashmere
scents you will adore
Our treatments contain unique, original fragrance compositions that make care extremely pleasant, and the scent in the hair lingers on and on.
argan oils and tsubaka treatment
- floral and fruity fragrance composition with notes of tuberose, jasmine and rose with greenish-fruit elements of melon, peach, pineapple and violets.
cashmere treatment with amaranth oil
- powder-sweet fragrance composition with a note of ylang-ylang oil combined with an elegant blend of musk, sensual vanilla and modern cedar notes.
argan oil and tsubaki oil treatments
for damaged hair
for each type of hair
active regeneration
care for the hair surface and reconstruction of the hair fiber
thermal protection (against drying, styling, hairdressing treatments)
protection against aggressive agents
smoothness, shine, softness and hair elasticity
neat hair without extra weight
cashmere and amaranth oil treatment
for dry hair
for normal, thin, delicate hair
active moisturising
strengthening the hair from the inside
balancing hair hydration
improved mechanical properties: reduced hair breakage and brittleness, hair easier to detangle while combing
remedy for dull and rough hair
oriental inspiration — active substances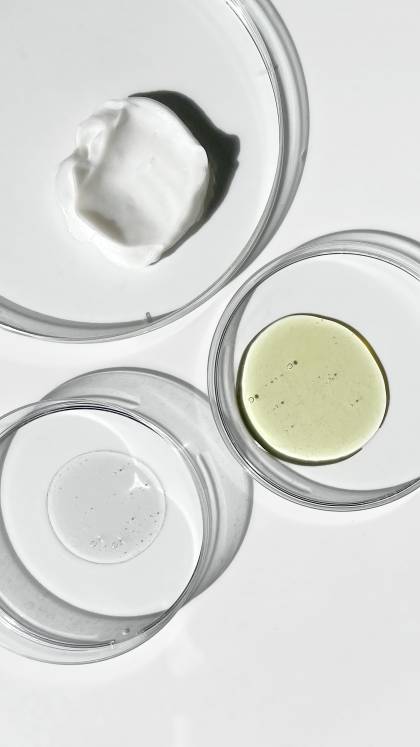 argan oil (Argania Spinosa Kernel Oil)
light yellow, cold-pressed oil obtained from the seeds of argan tree, called "Gold of Morocco"
contains 80% of unsaturated fatty acids and vitamin E
effectively moisturizes and restores the structure of the hair
stimulates hair growth
tsubaki oil (Camellia Japonica Seed Oil)
bright cold-pressed oil from the seeds of evergreen camellia bush, growing on Japanese islands
contains linoleic (omega-6) and oleic (omega-9) acids
takes care of and protects hair, adds shine
has conditioning properties
cashmere proteins
transparent, amber liquid obtained by hydrolysis of enzymatic keratin
due to high molecular weight and amino acid composition perfectly smooth the hair
create a protective layer
cashmere - synonymous with luxury and comfort
amaranth oil (Amaranthus Cruentus Seed Oil)
yellow-orange unrefined oil, cold-pressed from amaranth seeds
contains unsaturated fatty acids, including oleic and linoleic acids and squalene
naturally contained in the oil, vitamin E is an excellent antioxidant; it protects hair against harmful effects of free radicals coming from the environment
perfectly smoothes and moisturizes hair, prevents friction
4 ways to have beautiful hair
1. Water temperature – when applying the shampoo, it is best to use warm (but not hot) water, as in combination with the detergent it will most effectively cleanse the scalp and hair. Too hot water can cause skin irritation and stimulate excessive sebum secretion, resulting in faster oily hair. Always use a lukewarm jet of water when rinsing. Lower water temperature will close the hair cuticle.
2. Shampoo – do not overdose shampoo. The more product we apply, the more difficult to rinse out foam we produce. Insufficiently rinsed hair is dull, rough and devoid of natural volume.
3. Drying hair – first use a towel and then allow the hair to dry naturally.
4. Using blow dryer – heat damages the structure of the hair, makes it dry, brittle and fragile. To reduce the adverse effects of the dryer, lower its speed and opt for a cold wind blow.
Your treatment for dry and damaged hair
SHAMPOOS – thick and efficient. Our tip: when washing, massage the scalp and the hair at its roots. As a result, you will remove accumulated sebum and impurities more thoroughly. Wash your hair with lukewarm – and not hot – water.

MASKS – regenerating compress for damaged hair. You will see results right after the first application. Spread the mask on washed, damp hair, gently massage it into the scalp and into the hair, first at the roots and then downward to the tips. Leave for 3-5 minutes. Afterwards, rinse it thoroughly with lukewarm water. Apply 1-2 times a week.
ARGAN CREAM CONDITIONER – apply to damp, towel-dried hair and distribute preferably right at the roots. Thus, you will get the effect of perfuming the scalp. Depending on your needs, apply the conditioner along the entire length of the hair or only on the tips, gently pinching it. This technique will increase the hair volume.

TWO-PHASE SPRAY CONDITIONERS – if you are looking for a light leave-in conditioner that will make your hair light, detangle it easily and increase its volume - this is the product for you. Before use, shake until the two phases are well mixed and spray the hair along the entire length. Your hair will become smooth and shiny.

CASHMERE MODELING CONDITIONER – perfect product preparing hair for modeling and styling. It is enough to spray slightly damp or dry strands along the entire length, and the hair will become more elastic and manageable.

SERUM – if you need to tame your unruly, "frizzy" and easily static hair, distribute a small amount of serum to the tips or whole strands of your hair. Depending on the amount of product used, its silicone formula will provide an effect comparable to lamination and hair straightening. As a result, you will have clearly smoother and more lustrous hair.