young skin care
Far, far away in Asia, there is an incredibly fascinating Korean Jeju Island. Not only has it developed its own culture, which made it a UNESCO World Heritage Site, but also it is the place of origin of camellia oil, the main ingredient in our new series of this very name.
Jeju – how wonderful, huh?
We know you like to feel comfortable and confident.
Imperfections cannot stop you, and blemished skin cannot slow down the rhythm of your day.
Take our word for it. We are like this, too.
That's why we've created a series that can keep up with you.
Do you want to know more?
Imagine that we are able to help you in many ways: improve the look of your skin, refresh and enhance your complexion, and at the same time relieve any irritation or redness. Together with you, we can face the problems of young skin. You need to know that we are not afraid of struggling with oily or dry skin or scared of excessive sebum, blocked and enlarged pores, or even blackheads.
Why? We have the jeju pink series that makes us feel very confident. Nay! It makes us feel lion-hearted!
Trust us. Create your caring ritual with us in the best possible style. Fill your bathroom with the amazing aroma of an exotic fruit cocktail.
Do you know what the new series smells like?
It is a perfectly balanced fragrance of mango, coconut and papaya. Can you smell it? Now you will have this opportunity.
Here are the seven skin care products for young complexion, for you to try.
You can use them once you turn 12.
We hope that their form, properties and scent will make a perfect addition to your great day.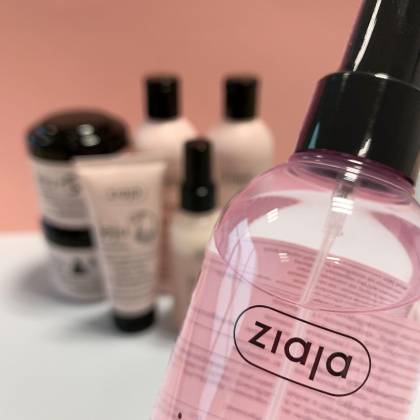 Do you want to know more? For the jeju series we used several key ingredients:
Camellia oil
protects against premature aging of the skin, soothes irritations, and strongly moisturises and regenerates the skin and hair
Cistus extract
relieves acne, contains polyphenols with antioxidant, anti-inflammatory and antibacterial properties, captures and removes free radicals, and helps to fight dandruff and controls oily hair and scalp
Quaking aspen bark extract
a natural source of salicylates; it inhibits the growth of bacteria responsible for acne
Provitamin B5 and plant derivative of glycine amino acid
soothe irritations and moisturise the skin
Shea butter
nourishes and tones the skin
Binchotan charcoal
we know that this what you've been waiting for: a rich source of minerals; it effectively attracts all impurities and excessive sebum, deeply cleanses and tightens pores, and additionally gives an anti-inflammatory and soothing effect
Brahmi
soothes and protects against irritations
Are you still with us? That's great, because we want to show you how you can take care of your face. It's easy and fun, and that's what it's all about. For this purpose you can use two products.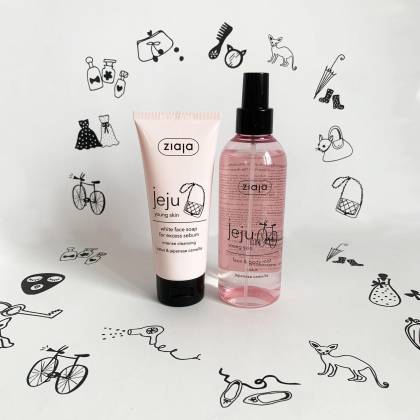 The first of them is a white face soap for sebum control. Deeply cleanses very oily skin with a tendency to "shine". Suitable for using a face cleansing brush. Its decisive action helps remove impurities and excessive sebum from the skin.
The second one is a face and body mist. Quickly refreshes, gently cools and moisturises. If your skin needs awakening, this is where you will find it. In addition, you can also apply it to your hair.
A pampered face needs a pampered body, right? No doubt. That's why we have some interesting recommendations, which you can freely match up to your caring ritual.

White shower and bath soap lathers very well, contains moisturizing glycerin, does not make the skin dry and leaves a pleasant scent. Do you want more? No problem.
For an even greater feeling of cleansing, use anhydrous, thick, black sugar body scrub, which exfoliates dead skin. It leaves an emollient layer and gives a pleasant feeling of soft and firm skin.
For an even greater effect, use actively moisturising white mousse. The application is pleasant, thanks to a light fluffy consistency and a satin smooth feeling. Your skin will remain smooth, soft and surrounded by a beautiful fruity scent.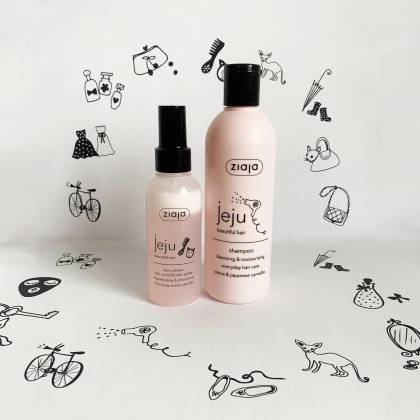 We know what you're thinking – you want a full package. We get it. Do you want to have beautiful, shiny and healthy hair? We want that too, so see what we have prepared for you.

Shampoo for hair and scalp – you can use it daily, especially for greasy hair. It cleanses the scalp and restores freshness to your hair. Additionally, it moisturises the hair and makes it easier to style.
We also have a duo-phase hair conditioner in the form of a convenient spray. It's perfect for dry hair that should be moisturised, nourished, but also strengthened and smooth. We're giving you a product that will regenerate it, make it look sleek and easy to style and detangle, and at the same time will not weight it down.
The jeju series is supposed to support you in taming your young, rebellious skin.
It will help you get rid of all imperfections, cleanse the skin from excessive sebum, relieve irritation and redness. Sounds good? So, listen to this: jeju will effectively moisturise your skin, restore its natural pH and make you feel confident in any situation, without having to bother about any problems with your complexion. So do your part, and we will do the rest.