young skin care
Far, far away in Asia, there is an incredibly fascinating Korean Jeju Island, famous for its unique culture and pristine nature. It is also the place of origin of camellia oil, the main ingredient in our new series of this very name.
Jeju – how wonderful, huh?
We know you are young and dynamic. We know you like challenges and action.
We also know how important healthy and clean skin is for you and that you don't like it when imperfections stop you. So, let yourself be spontaneous and uncompromising, and we will provide you with products that will step up to the mark.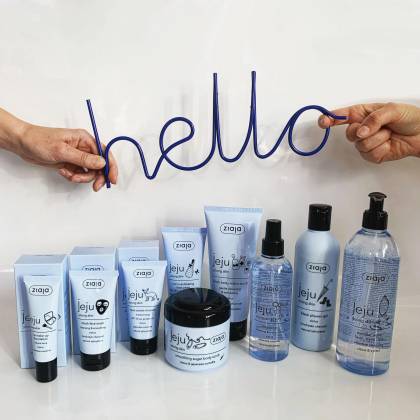 Have you ever thought about creating your own caring ritual? A ritual that would contain products in funny new forms, with interesting colours and fragrances, and the ingredients crucial for the jeju series?
Camellia oil protects against premature aging of the skin, soothes irritation, and also strongly moisturises and regenerates the skin and hair
Cistus extract relieves acne, contains polyphenols with antioxidant, anti-inflammatory and antibacterial properties, captures and removes free radicals, also helps to fight dandruff and controls oily hair and scalp
Aspen bark extract a natural source of salicylates; it inhibits the growth of bacteria responsible for acne
Binchotan charcoal we know that this what you've been waiting for: a rich source of minerals; it effectively attracts all impurities and excessive sebum, deeply cleanses and tightens pores, and additionally gives an anti-inflammatory and soothing effect
Are you getting interested? That's nice, because now we will tell you exactly how we can help you.
A young complexion is very difficult to take care of: it either gets too greasy, or too dry. In addition to this, hormonal changes make the sebaceous glands work more intensively and produce excessive sebum. As a result, the pores get clogged, blackheads pop up and the skin is more prone to acne.
You don't want that, do you?
The jeju series consists of cosmetics specially selected for young people; they are designed for cleansing, antiseborrheic, antibacterial, moisturising and soothing actions
Here are the 9 skin care products for you to try. Each of them is unique, surprising, and has a wonderfully energetic scent of mint, black currant and pomegranate.
You can use them once you turn 12.
See how the active plant substances can help you with the special needs of your skin.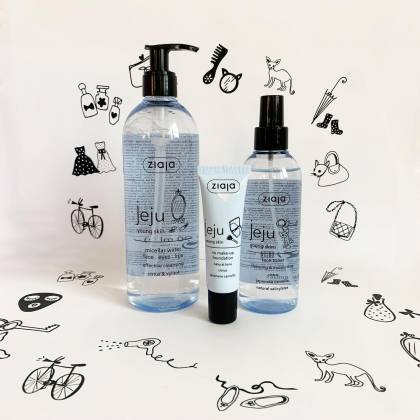 Are you still with us? Great! That means you're ready to create your own caring ritual. We have 6 skin care products that will help you with this.
Micellar water
Perfect for removing face, eye and lips make-up and for cleansing the skin. Fragrance-free, with moisturising and soothing substances.

Face toner
It is the only product in our offer that contains sodium lactate – a substance with strong moisturising properties. Its main task is to degrease the skin without making it dry. It combats the growth of acne bacteria and irritations: seriously, you couldn't ask for a better buddy. If you want to know its amazing fragrance, you have to check this out yourself.

No make-up foundation natural tone
We know how important this product is for you, so for the first time we can offer a version intended for a young skin. It has a natural shade and concealing properties. You don't need to worry about a "mask" effect or clogged pores: it will spread smoothly and get absorbed quickly. You will get a unified skin colour, the imperfections will be concealed and you will enjoy an effect of a natural nude make-up. Remember that you can apply it several times a day.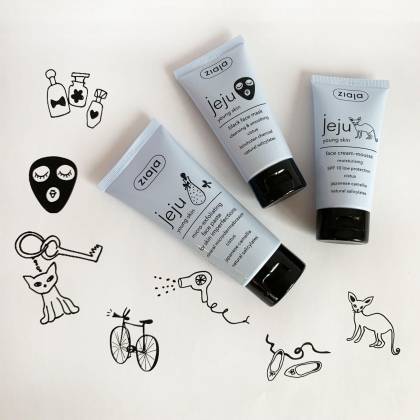 Micro-exfoliating face paste
Thick white paste with biodegradable peeling agents and delicate cleansing ingredients. For daily application. Your skin will be cleansed, full of energy, soft, smooth and refreshed. The paste will also reduce irritations and redness.

Cleansing & smoothing black face mask
With the consistency of thick gel, it solidifies partially when applied to the skin, and has a high content of charcoal. And here it is – a product that removes impurities, regulates excessive sebum, soothes and moisturises the skin, and cleanses the pores.
Moisturising face cream-mousse for daily use
Use it if you want your skin to be moisturised, UV-protected (with SPF 10), and irritation- and redness-free. Gentle mousse spreads smoothly, gets absorbed quickly without clogging pores, and makes a very good base for make-up.

To complete the caring ritual, we also have some body care products. Check out how excellently they can complete your body care. You need to know that our new series is designed to take care not only of your face, but also of the whole body. It's important, because we are giving you products which can help you combat skin imperfections in the areas that need more decisive action.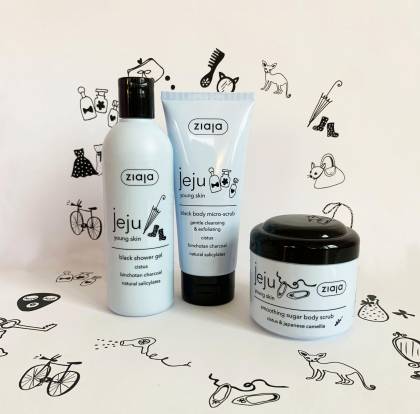 Black shower soap
Gently foaming black gel which contains moisturising glycerine. It helps to remove impurities and excessive sebum, and cleanses and refreshes the skin without making it dry.

Black body micro-scrub
We have created it from biodegradable particles, such as cellulose, and we have added glycerine. This body scrub easily rinses off, and does not contain surfactants. Its main task is to cleanse the skin, support the exfoliation of dead cells of the epidermis, and provide a pleasant massage of the skin.

Smoothing sugar body scrub
Thick black-dotted white peeling which exfoliates dead skin. It lubricates and softens the skin, leaving a protective emollient film. You can use it even twice a week.

The jeju series is supposed to support you in taming your young, rebellious skin.
It will help you get rid of all imperfections, cleanse the skin from excessive sebum, relieve irritation and redness. Sounds good?
So listen to this: jeju will effectively moisturise your skin, restore its natural pH and make you feel confident in any situation, without having to bother about any problems with your complexion. So do your part, and we will do the rest.
jeju, what a treat!