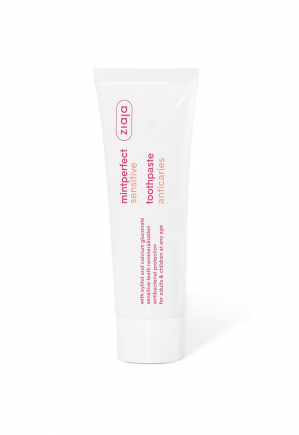 sensitive anticaries toothpaste
Mintperfect sensitive anticaries toothpaste with xylitol and calcium gluconate for adults and children at any age. Provides antibacterial protection and helps prevent cavities. Xylitol protects against acid attacks by maintaining alkaline pH. Calcium gluconate helps to remineralise sensitive parts of teeth. Silica thoroughly cleans plaque and restores the natural whiteness. Gentle mint aroma provides pleasant feeling of freshness. Fluoride-free.
How to use
Brush thoroughly at least twice a day, do not swallow.
INCI
Sorbitol, Aqua (Water), Calcium Carbonate, Hydrated Silica, Xylitol, Sodium Lauryl Sulfate, Titanium Dioxide, Calcium Gluconate, Cellulose Gum, Sodium Saccharin, Aroma (Flavor), Limonene.
The list of ingredients is consistent with the current state of manufacture as of 2020-10.
MAIN INGREDIENTS
colloidal silica, xylitol