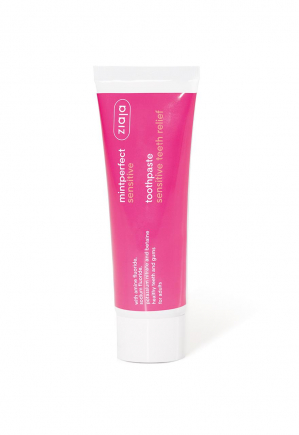 sensitive teeth relief toothpaste
Mintperfect sensitive toothpaste with amine fluoride, sodium fluoride, potassium nitrate and betaine for sensitive teeth. Strengthens tooth enamel, protects gums and exposed dentine. Provides protection against acids, bacteria and cold meals. Silica thoroughly cleans plaque and restores the natural whiteness. Gentle mint aroma provides pleasant feeling of freshness. Contains 0,12% of fluoride.
How to use
Brush thoroughly at least twice a day, do not swallow. If using flouride supplements consult your dentist. For adults use only.
INCI
Aqua (Water), Sorbitol, Calcium Carbonate, Hydrated Silica, Cocamidopropyl Betaine, Hydroxyethylcellulose, Potassium Nitrate, Betaine, Titanium Dioxide, Sodium Fluoride, Propylene Glycol, Olaflur, PEG-40 Hydrogenated Castor Oil, Sodium Saccharin, Aroma (Flavor), Limonene.
The list of ingredients is consistent with the current state of manufacture as of 2020-10.
MAIN INGREDIENTS
colloidal silica, fluorine