goat's milk for you
series recommended for daily face, body and hair care, especially if:
– you have dry, wrinkle prone, inelastic and sensitive skin
– you prevent wrinkles after age 20
– your hair is dry, rough and dull
skin care
NEW PRODUCTS in Goat's Milk series will help you keep your skin young and fresh longer.
They are distinguished by:
– fast absorption, light consistency
– stability during multilayer application to the skin
– variety of forms and different ways of application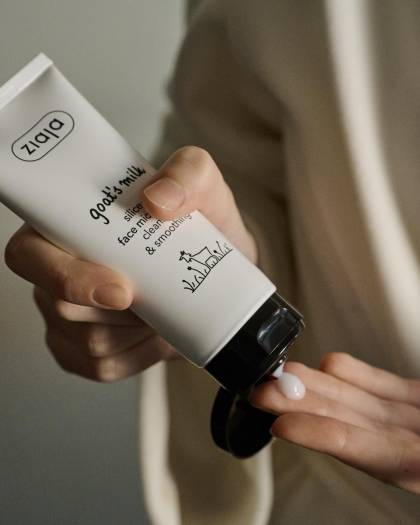 our way to a ritual with new Goat's Milk products
Cleanse your face from make-up residue and daily impurities with a milky face wash.


Depending on your needs, to exfoliate your face skin use either a micro-scrub or a more gentle, daily exfoliating enzyme peel. Only now is the skin prepared for further treatment.


Apply a thin layer of milky youth concentrate to your face, neck and neckline to treat your skin with a concentrated dose of active substances.


Apply an ultra-light anti-aging cream to give your skin a fresh and young look.


Do not forget about regular face massage, which improves blood circulation and helps products to penetrate into the skin more effectively.



active substances – how it works
rich in caprylic acid, proteins, minerals and vitamins, goat's milk extract
– smoothes and moisturizes the skin,
– stimulates the synthesis of collagen and elastin, activating skin renewal
– increases skin elasticity, prevents it from sagging, smoothes wrinkles and delays aging processes
– protects against the harmful effects of free radicals
– nourishes and moisturizes the skin
mannuric acid derivative
– contains mannuronic acid extracted from laminaria, brown algae – it is a source of silicon, one of the main elements building connective tissue (bones, blood vessels, skin)
– delays wrinkles formation
– moisturizes and smoothes the epidermis
– has anti-inflammatory properties (reduces the secretion of pro-inflammatory cytokines after UV exposure)
– has antiglycating properties: prevents collagen fiber degradation caused by glucose molecules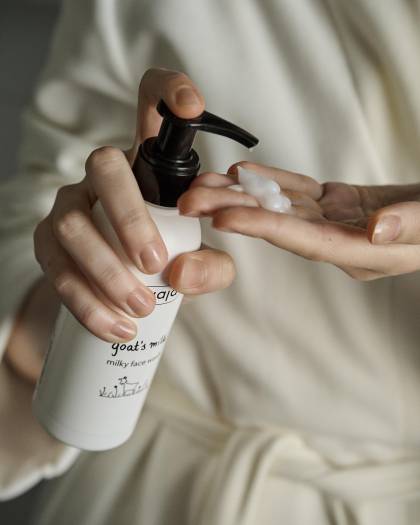 provitamin B5 (D-panthenol) – in the skin it is transformed into vitamin B5 – an excellent skin treatment component which can be used in all skin care products – intensively moisturizes, softens and elasticizes the epidermis – effectively soothes skin irritations, softens and protects hypersensitive skin and mucous membranes
vitamin A – most often found in the form of retinyl palmitate – stimulates the renewal of the epidermis and improves its structure – smoothes wrinkles, restores skin elasticity and decreases discoloration
vitamin E – called "the vitamin of youth" – effectively neutralizes the harmful effects of free radicals – protects the lipid layer of the epidermis from damage by building into the structure of cell membranes – perfectly moisturizes, smoothes and improves the skin texture
would you like to know more about new products in the goat's milk series?
ultralight face cream moisturising & smoothing
Leaves the effect of satin-smooth skin.
Intensively moisturizes and smoothes the epidermis.
Protects the skin against the adverse effects of external factors (eg. UV radiation, dust and wind).
Restores skin elasticity and resilience.
Effectively soothes irritations.
Leaves the skin pleasantly fresh.
energising & smoothing serum
Contains collagen synthesis activator.
Smoothes and reduces skin irregularities.
Actively moisturizes, firms and elasticizes the skin.
Restores the youthful appearance of the skin.
Reduces visible signs of tired skin.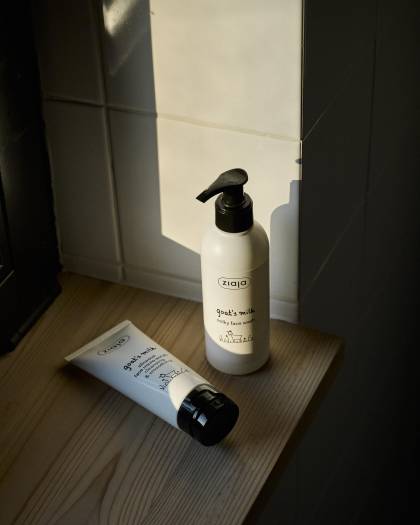 milky face wash
Gently cleanses the skin and removes daily impurities
Gently removes eye make-up
Softens the skin and prevents skin drying.
Based on a gentle washing base, which does not affect the protective barrier of the epidermis.
Perfectly refreshes and gives a feeling of clean, cared-for skin.
enzyme peeling
Gently exfoliates dead skin cells.
Softens, moisturizes and perfectly smoothes the skin.
Contains actively nourishing milk proteins.
Makes the skin pleasant to the touch.
Restores youthful freshness and elasticity.
siliceous face micro-scrub cleansing & smoothing
Gently exfoliates and smoothes the epidermis.
Cleanses and refreshes the skin.
Leaves the skin smooth and pleasant to the touch