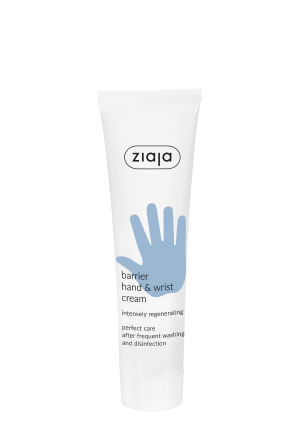 For
skin: dehydrated, dry, very dry

product Type
antibacterial and disinfecting,
hand creams

barrier hand & wrist cream
Intensely regenerating barrier hand & wrist cream provides perfect care after frequent washing and desinfection. Nourishes, moisturises and visibly regenerates dry, dehydrated and rough hand skin. It creates a protective barrier that protects the epidermis from irritating factors. Smooths, softens dry epidermis and provides a feeling of comfort. Supports the skin microbiome which enhances the care effects.
95% ingredients of natural origin
How to use
Massage the cream into clean and dry skin of hands and wrists. Apply as needed, as often as necessary. Regular use of the cream supports the regeneration of hands after frequent washing and disinfection. May be used on elbows area.
MAIN INGREDIENTS


For
skin: dehydrated, dry, very dry

product Type
antibacterial and disinfecting,
hand creams