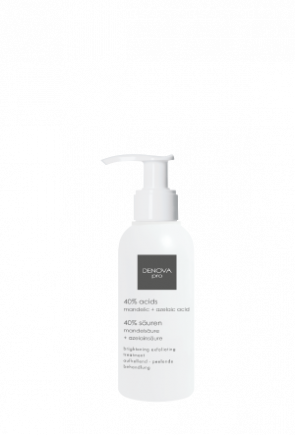 Program
exfoliation treatment



40% acids mandelic+azelaic acid
for professional use
Low pH works gently but actively, relaxes corneocytes adhesion, eliminates dead skin cells, reduces spots, blackheads and normalises sebum secretion. Smooths, brightens skin and reduces discolourations.
How to use
Protect lips, nose, eyes and eyebrows with vaseline. Apply with a brush. Next, apply neutraliser. Rinse off. Store in room temperature, refrigerate after opening.
INCI
Propylene Glycol, Mandelic Acid, Aqua (Water), Panthenol, Azelaic Acid.
The list of ingredients is consistent with the current state of manufacture as of 2020-10.
MAIN INGREDIENTS
mandelic acid

Program
exfoliation treatment